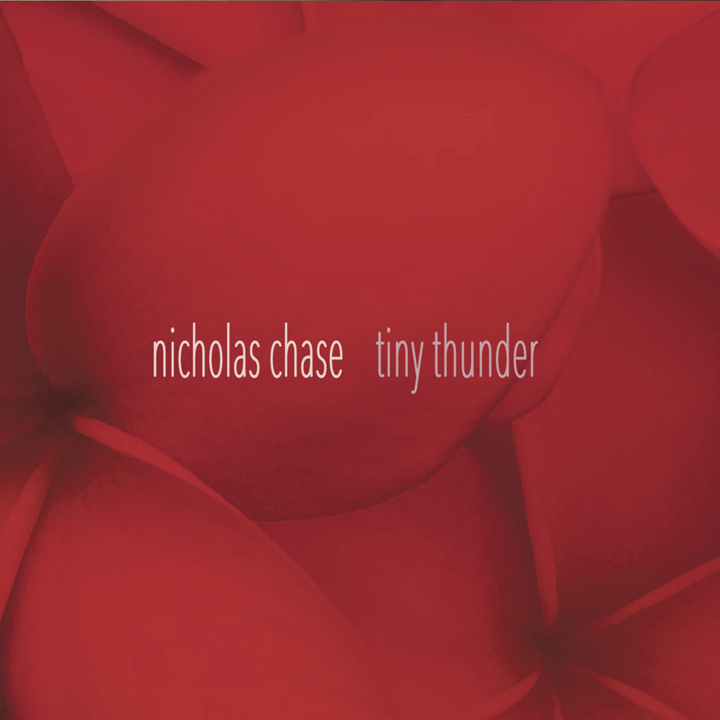 Tiny Thunder
Premiere Recording by Bryan Pezzone
Exclusively from Cold Blue Music (Distributed by Naxos) Digital and CD.
Releases February 10, 2023: Bandcamp Pre-sale begins now.
Three years in the making, Cold Blue Music releases an exclusive recording by Bryan Pezzone of works Tiny Thunder (piano for four hands) and Zuowang. Over 30 minutes of dream-like music, Pezzone's long-awaited return to the studio does not disappoint.
Tiny Thunder was produced by Cold Blue founder, composer Jim Fox, and engineered/mastered by contemporary music champion Scott Fraser.
In 2009 Songs of the Thirsty Sword suggested a new direction for my concert works. The Cold Blue release Bhajan cemented that direction. The Tiny Thunder recording is an all-acoustic recording, not my first, but the first that explores practices I've developed for myself explored by other performers.
Digitally distributed Performance Scores for both works on the recording will be available by late summer 2023 and specs are available by request. Downloading scores invokes a tacit agreement that works will be performed in a licensable, public scenario.
---

Rugosa Rose (PERFORMANCE SCORE) in .pdf
Woad for Indigo (PERFORMANCE SCORE) in. pdf
February 25, 2022
Licensed performance scores for Rugosa Rose (solo violin) and Woad for Indigo (solo piano) are now available for instant download. Both works are featured on Garden Works. The scores have never been available to the public before, and these downloads come with notes and instructions as well as the studio recordings from Garden Works as reference.

I've been working in a variety of ways to make my scores more accessible to performers while guarding copyright and licensing. Downloading scores invokes a tacit agreement that works will be performed in a licensable, public scenario.
I'm glad to make these early, important works available for study and performance. At the bottom of my BandCamp page you will find other scores available, including Sutram for ensemble, the popular Ouistitis for viola and 'cello, and Zuowang a more recent piano solo. Other works will appear this year as I can make them ready.
---

Garden Works: Music for soloists
February 11, 2022
Garden Works features two large works from the early 2Ks: Rugosaa Rose, a modular piece for violin and Woad for Indigo for piano. These are beautifully performed studio recordings by violinist Mark Menzies and pianist Trevor Berens are available for the first time.

Rugosa Rose is an unusual, modular piece that can be any length and taken any number of different forms, and so appears twice in variation on this recording.
Woad for Indigo is an acrobatic, 26-minute opus realized in tour-de-force recording by Berens who commissioned it. The Signature Studios recording was supported by the American Compsers Forum, Los Angeles.
---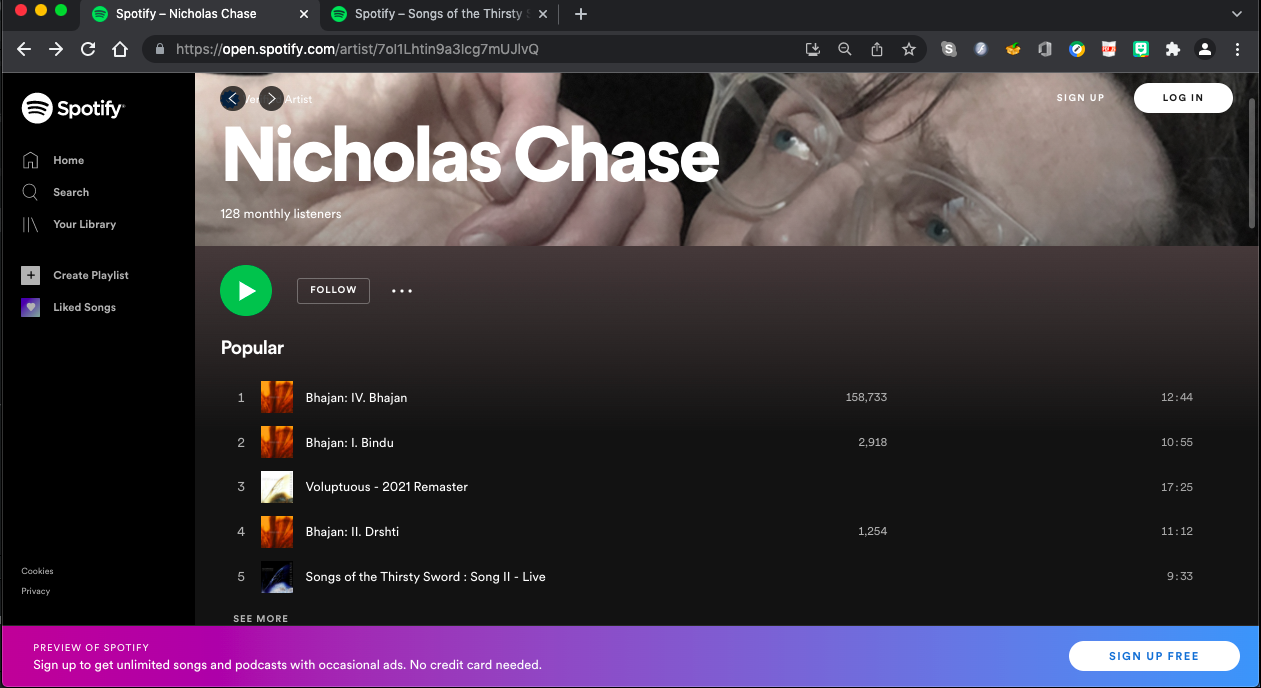 October 2021
Exclusive on Spotify and iTunes
I have made various works available exclusively on Spotify for streaming and likewise, some of my work appears now in iTunes. Watch this space for more news and updates. Meanwhile, find Spotify my artist page to see what's new and exclusive there.

---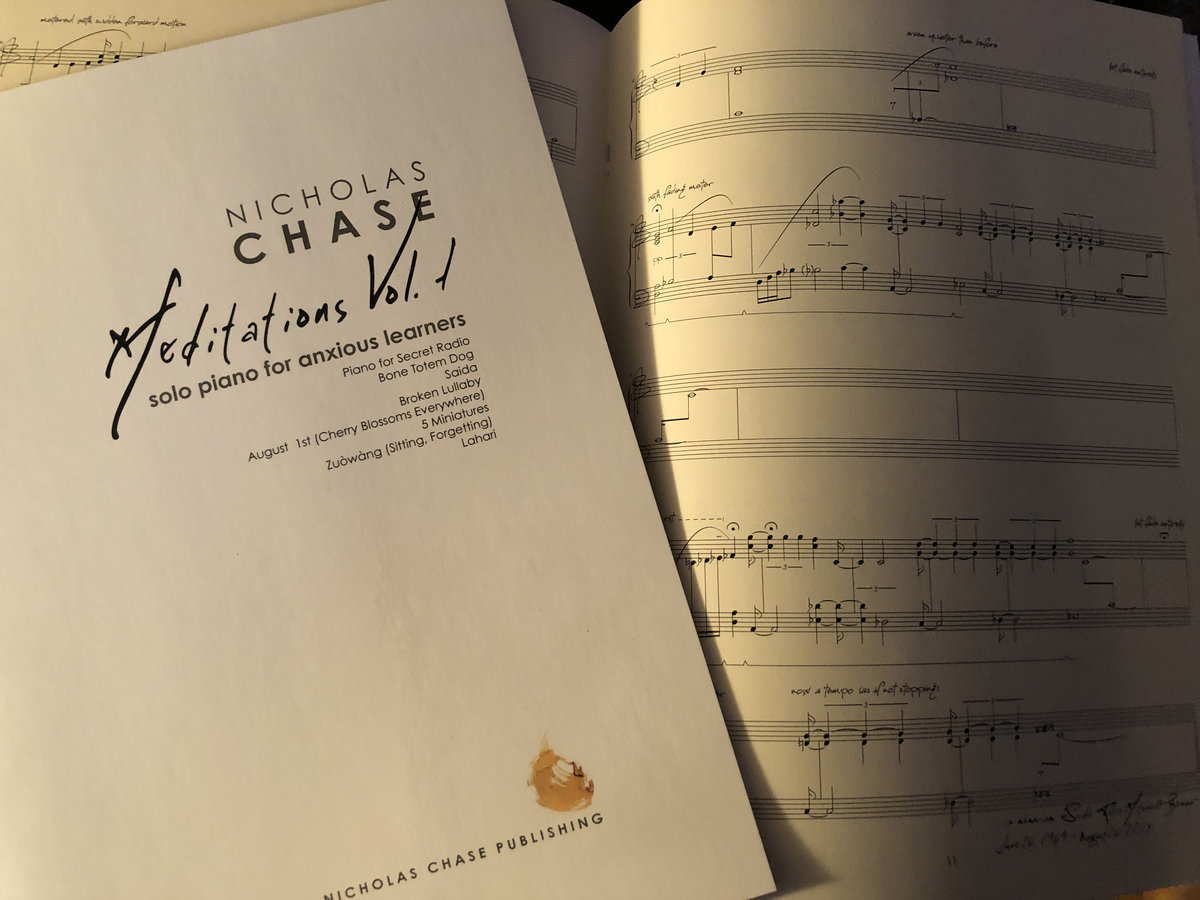 Meditations Vol. 1 — a collection of easy piano pieces
October 1, 2021
Meditations Vol. 1: Music for Anxious Learners contains 7 works for solo piano. These range in difficulty from the very easy to the more challenging, and from very long, to miniature. Many of the pieces feature a no-time-signature format, where you, the performer, can make your own choices about tempo and pacing—meditating as you play.

This is a printed book and available exclusively through my BandCamp page for $25.

---

Voluptuous: Works for Solo Piano
September 3, 2021
Voluptuous: Works for Solo Piano has been beautifully remixed and remastered. Released in 2014 as a limited edition CD and digital edition, the remastered release appears as a digital-only edition. This version brings out more detail of the original recordings. Performed on two Steinways (Jack Straw Productions in Seattle, and Greg Moore's Maybeck Recital Hall in Berkeley) my concept for the record was to create my experience hearing these pieces as I played them. The pianos were close-mic'd to capture the intimacy I had with the ivory, wood, and wire during performance.

Additionally, the 2021 Remaster is offered at 24bit, 48kHz sample rate, higher quality than the original release, with more attention to detail and additional spatialization to give a stronger impression of the performance experience. It's an unusually intimate recording, and there are moments in Voluptuous where you can practically hear the sound climbing along the soundboard!

Find it here: nicholaschase.bandcamp.com

---
Complete Soul Parish Lost Works now on BandCamp
July 23, 2021
Soul Parish Lost Tracks 3: Radio ends the trilogy of recordings I made of pop music I wrote in the 1980s. A labor of love and real-life time-travel, These tracks were realized through revue of notes, recordings, and a strong memory of how I had hoped to make these recordings "back in the day." The 3 releases cover material I didn't have the gear or knowledge to realize in the way you will hear them now. They also reveal where the original "Soul Parish" incarnation started and where it might have gone had I stayed in London, and had I worked with the producers I wanted to.

I recorded as Soul Parish from about 1986 until the late 1990s. The many cassette releases, one internationally acclaimed CD, do not appear here, with the exception of four songs that never got their just-due: Radio, Electric Blue, Better Than This and Play By The Rules.

In addition to the newly realized vintage-sounding recordings, I've uploaded memories and notes about how and why the songs came into being and what influenced me in my production—remembering that these recordings are based on early notes and demos that no one—or perhaps very few—ever heard. Each release includes a string of bonus tracks, demo versions of the finished songs, some with vocals, some just sketches for what would be.

---

Bhajan Exclusively from Cold Blue Music
CD and Digital. Read reviews here.
Bhajan, described by one critic as "a pas de deux between violin and electronics," is in four joined/continuous sections. Influenced by many musics from around the globe, the work tantalizes and bewitches the ear with a breadth of sounds that ebb and flow as if guided by an elusive but inherent sense of logic.

Cold Blue Music now has a BandCamp presence for those who prefer instant, high-quality download and streaming libraries. Bhajan is also available there.

---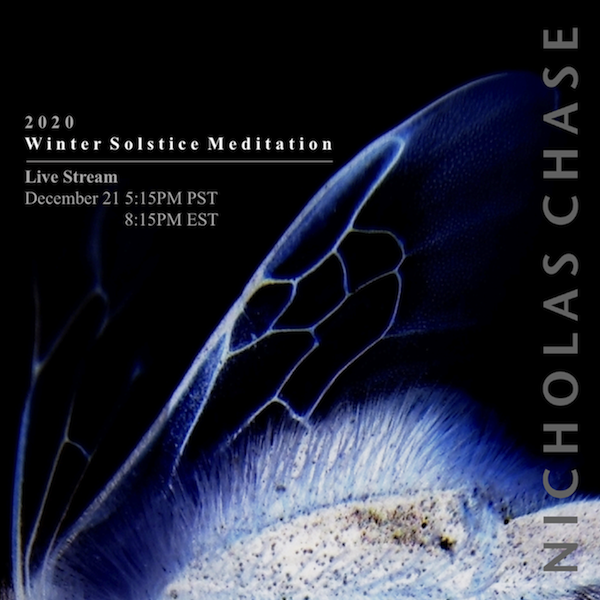 Winter Solstice Meditation
Monday, December 21, 2020
5:15PM PST (8:15 EST)
Live Stream YouTube

Please join me in Musical Meditation on the Winter Solstice. The Solstice draws the northern hemisphere into Winter repose. In contemplation of this past year, I will perform Songs of the Thirsty Sword for piano with electronic support, accompanied by video projection. Here is the link to the live event: https://youtu.be/G40nT6duwxo

This live performance will be streamed in high quality audio, but will be very quiet. I recommend wearing headphones or connecting to external speakers to hear the music in its fullness.
I intend for this to be the first of many performances—and premieres—I offer online. I am building my YouTube channel, so please like, subscribe and share this video, or any others that catch your ear, and please donate to support this and future works. www.paypal.me/nfchase.

---
Pandemic Story
April 9, 2020
Quarantine Space
Eugene Weekly
Music Column
by William Kennedy
"Within a couple of hours after being temporarily furloughed from his job due to the coronavirus, contemporary classical composer Nicholas Chase was talking to his frequent collaborator, Bay Area-based soprano C.A. Jordan. "She said I should post a tarot reading about the current situation," Chase, a Eugene native, tells me via Facebook Messenger." Read the full article at www.eugeneweekly.com.

---
POSTPONED
Saturday May 9, 2020
7:30-9:30pm
Sonic Liberation Players: Sound Stories
First Parish of Watertown
35 Church St.
Watertown, MA
The stories SLP presents today are those of myth, of place, and always, of music. Boston composer Marti Epstein's "Liquid, Fragile" is a stunning mixed quartet, placing the role of silence alongside the role of sound in ways that both reinforce the heard music and the heard silence. Duos include Lou Harrison's wonderful piece for flute and percussion, "Ariadne", Lera Auerbach's "Preludes" for violin and piano, and Trevor Berens' "Two Scenes" for piano and percussion. Terry Riley's rarely performed string quartet, "The Ecstasy" will be a high point of this program, as well as Amy Gordon's beautiful song for mixed ensemble, "The Breeze at Dawn", and the premiere of Nicholas Chase's "Tiny Thunder" for piano, four hands.

---
POSTPONED
7:30PM
Saturday April 4, 2020
Ensemble LudeCanta presents: American Voices 3
Noe Valley Ministry
1021 Sanchez Street
San Francisco, CA 94114
Tickets: $20 General • $15 Students/Seniors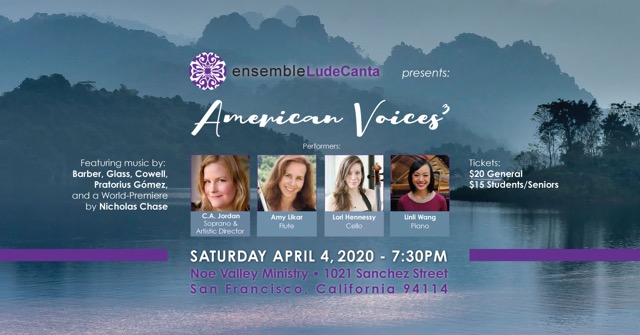 Soprano C.A. Jordan repeats her original evening of solo soprano performance to Bay Area audiences. The program includes works by Barger, Glass, Cowell and Pratorius Gómez as well as the World Premiere of Once I Was a Tree by Chase. Jordan has made a specialty of solo recitals featuring traditional soprano repertoire as well as a growing portfolio of original commissions. This uniquely expanded recital features solo performances by Jordan's ensemble as well. Once I Was a Tree for soprano, piano and 'cello, was commissioned by Jordan.
---
POSTPONED
Saturday March 28, 2020
7:30PM
Ensemble LudeCanta presents: American Voices 3
The Episcopal Church of the Incarnation
1750 29th Ave.
San Francisco, CA 94122
Tickets: $20 General • $15 Students/Seniors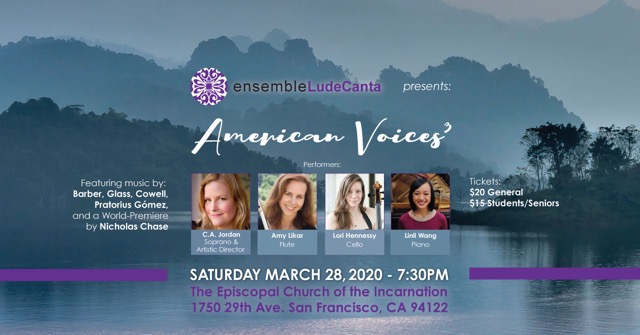 Soprano C.A. Jordan brings another evening of solo soprano performance to Bay Area audiences. Jordan has made a specialty of solo recitals featuring traditional soprano repertoire as well as a growing portfolio of original commissions. This uniquely expanded recital features solo performances by Jordan's ensemble as well. This evening Jordan will premiere Once I Was a Tree for soprano, piano and 'cello, commissioned by Jordan.
---
Saturday February 22, 2020
8pm
Sonic Liberation Players: Ecstasy/Enstasy
Real School of Music
25 Lowell St.
Cambridge, MA

SLP continues their fourth season with an evening full of stunning and revelatory music.
Due to injury, the original programming for this concert has been substituted with alternate programming. Terry Riley's string quartet The Ecstasy has been postponed, replaced by Arvo Pärt's Spiegel Im Spiegel and Zuòwàng by Nicholas Chase, both for solo piano. Mary Jane Leach's "Bach's Set" (2007) is a likewise transformative piece, for solo cello and 8 tapes cellos, based on Bach's first cello suite. Bunita Marcus' meditative and melancholic "Lecture for Jo Kondo" (1985) takes the listener on an inward journey.
Finally, Australian composer Nicole Murphy's "Parched Paddock" (for voice, percussion, piano; 2016) and D Edward Davis' "when we try to pick out anything by itself we find it hitched to everything else in the universe" (tape, voice, piccolo; 2013) both beautiful, but starkly, discuss the role of the climate emergency on our avian friends.
---
Saturday May 6, 2017
8-10pm
Sonic Liberation Players: Maximal Effect 2.0
Third Life Studio
33 Union Square
Somerville, MA 02143
Tickets $12 at door or advance through Brown Paper Tickets.

Sonic Liberation Players take the recital hall once again with their dual-programs Maximal Effect 1.0 and Maximal Effect 2.0. On the program that includes Julius Eastman (Stay On It), Alvin Lucier, Tom Johnson, and Pauline Oliveros, the Bosto-arean collaborative will take on a revision of Chase's Sutram premiered by them last year.

---
---
---
---
---
---
March 19 2016
5pm
Introducing...The Sonic Liberation Players
Lilypad
Inman Square
1353 Cambridge Street
Cambridge, MA 02139
Tickets $10 at door or advance through Brown Paper Tickets.

In their Debut Performance, The Sonic Liberation Players offer an ambitious program of contemporary chamber works. The evening includes three World Premiere commissions composed for SLP including Chase's Sutram. Works by Giacinto Scelsi, Morton Feldman, John Cage and Kaija Saariaho are also on the program. Details about the ensemble and the evenings programs can be found here.

---

Archive of Past Calendar Events, Concert Dates and Performances :

2012-2015
2011
2009-2010
2007-2008
2006
2005
2004
2003
2002
2001